The Don CeSar is located in Florida, United States. Opened in the heyday of the Gatsby Era in 1928, The Don CeSar has been welcoming travelers for nearly a century. Along the Gulf Coast on St. Pete Beach, Don Cesar's pink design includes horseshoe arches, decorative tiles and beautiful courtyards.  (Official Website )
La Muralla Roja, by Richard Bofill, located in Calpe, Spain. Designed in 1968, this apartment complex was inspired by Arabian Mediterranean architecture. There are different shades of pink incorporated throughout the complex, which transform when the sunlight hits. (Learn More)
The Royal Hawaiian is located in Honolulu, Hawaii. Built in 1927, this iconic Spanish-Moorish architecture features plenty of local materials and located along Waikiki beach.  Every week, guests gather to join in on the traditional Hawaiian feast called Aha Aina, a Royal Hawaiian Luau.
Tan Dinh Church is located in Ho Chi Minh City, Vietnam. Tan Dinh Church has a dazzling baroque, gothic and Romanian architectural style. It is known to be one of the oldest and biggest church in Ho Chi Minh City, dating back to 1864.  The exterior and interior are both painted in pink! 
Casa Rosada is located in Buenos Aires, Argentina. Plaza de Mayo, the pink house or Casa Rosada is the seat of the government of Argentina which is the house of the president. Constructed on the site of a Fort, Casa Rosada which was established by Spanish rulers in 1580. ( Learn more )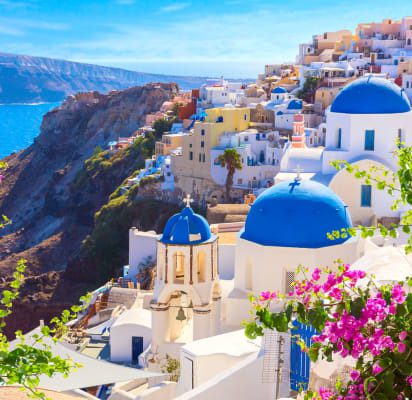 The Silent Room, by Nathalie. Harb, Located in Lebanon. This pavilion for Beirut Design Week to give residents of the city access to the silence. Available to the public for up to 30 minutes at a time of individuals to experience a "cocoon-like environment" to escape surrounding noise. ( Read Full Story ) 
Winery House, Located in Portugal. Lisbon-based practice Extrastudio has converted a winery, built in the 20th century, into a family home by covering its walls with red-pigmented mortar, introducing light wells and adding a black-bottomed swimming pool. (Learn More)
R7, by Duggan Morris Architects, Located in UK. An 11-story building with gridded facade that's finished pinks. The two shades of pink chosen echo the rosy hue of the bricks of the nearby St Pancras Hotel, an ornate 19th-century building that sits at the southern edge of the regeneration scheme area. 
Grune Zitadelle (GREEN Citadel), by Friedensreich Hundertwasser, Located in Germany. The late Austrian "alternative architect" called his big pink project an "oasis for humanity and nature in a sea of rational houses." A gothic cathedral, an eleventh century Romanesque monastery and the state parliament built in a mixture of baroque and classical styles. Green Citadel of Magdeburg has a fanciful collection of shops, hotels, cafes which are beautifully decorated and pink in color.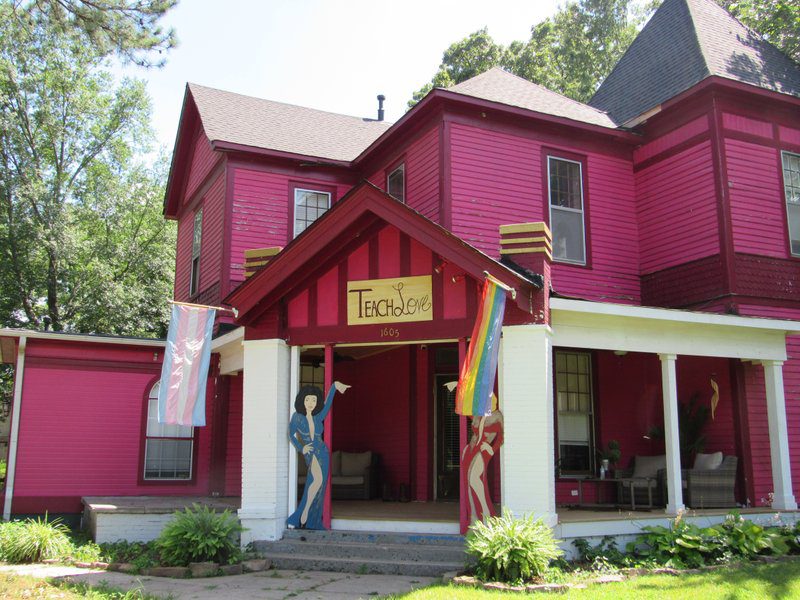 The Pink House, Located in Arkansas, United States. A 3,053-sq ft Victorian-era house built in 1917, was bought in 1986 for 1K by Robert "Bobby" Loyd and John Schenk, who were well-known activists in the LGBTQIA+ community. Loyd and Schenk took in countless young people who had been rejected by their families for being queer. ( Read Full Story ) 
Healing With Color: Pink | Pink Inspiration | Magenta Inspiration 
Which pink architecture was your favorite?? Do you know of any other pink buildings that are waiting to be discovered? Let us know in the comments!