The character of bronze is sophisticated and grandeur. Bronze is used in interior design to add an instant touch of old-world charm. Level Digital's Solar Eclipse design features clear ink and metallic effects to create a one-of-a-kind burnished metallic look. (LX0303) Customizable to your design needs!
Bronze wallcoverings will look luxurious if styled correctly. Order Samples : Aja (CM122-2455) , Dupione (LXB-DUP-07) , Alotian (CD2-ALO-23) , Adega (CD2-ADE-21)  , Quadrille (CSD-QUA-20) , Appian (CSD-APP-18) , Decca (CD2-DEC-09)  A timeless metal, bronze is one of the most versatile in its appearance. It works well with colors such as white, ivory, black, fuchsia and teal.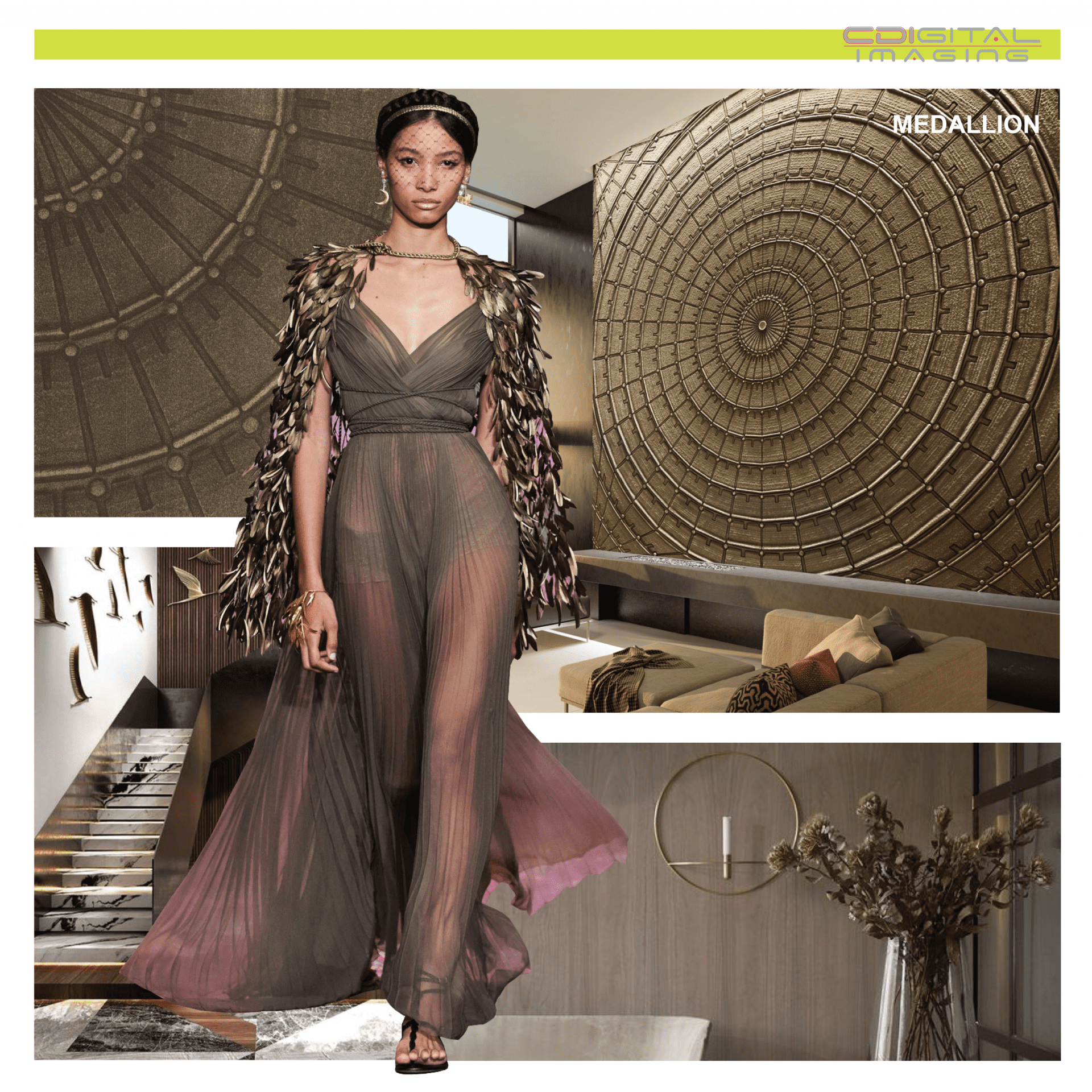 #Design Inspiration Medallion (MED101) by CDigital-Imaging. The undeniable impact of Medallion resounds throughout any space it occupies and provides a strong visual presence.
A timeless metal, bronze is one of the most versatile in its appearance. Make the best focal point in your interior with a digital bronze design.
Neutral and dynamic at the same time, this design silhouette simple geometric profiles very well. Kaleidoscope serves its simple design function with undeniably sophisticated style.
Bronze has a natural rustic look, but it can be polished to expose a contemporary shine and look within your interior. Bronze decor has the added benefit of resisting corrosion so it makes for a great choice in creating architectural trim and accents.
Adega features small mosaic cobblestones giving an Old World element to interiors. A combination of 24 natural neutrals and earthy accents make up Adega's colour palette. Adega is a 32 oz. Type II wallcovering and is NSF/ANSI 342 Standard certified.