"You can imagine the solar system to be a racetrack, with each of the planets as a runner in their own lane and the Earth toward the centre of the stadium. From our vantage point, we'll be able to be to see Jupiter on the inside lane, approaching Saturn all month and finally overtaking it on December 21." -Henry Throop, astronomer at NASA
There are 48 "ancient" constellations and they are the brightest groupings of stars. "Modern" constellations — like the Peacock and Telescope — were identified by later astronomers of the 1500s-1700s who used telescopes then "connected" the dimmer stars between the ancient constellations.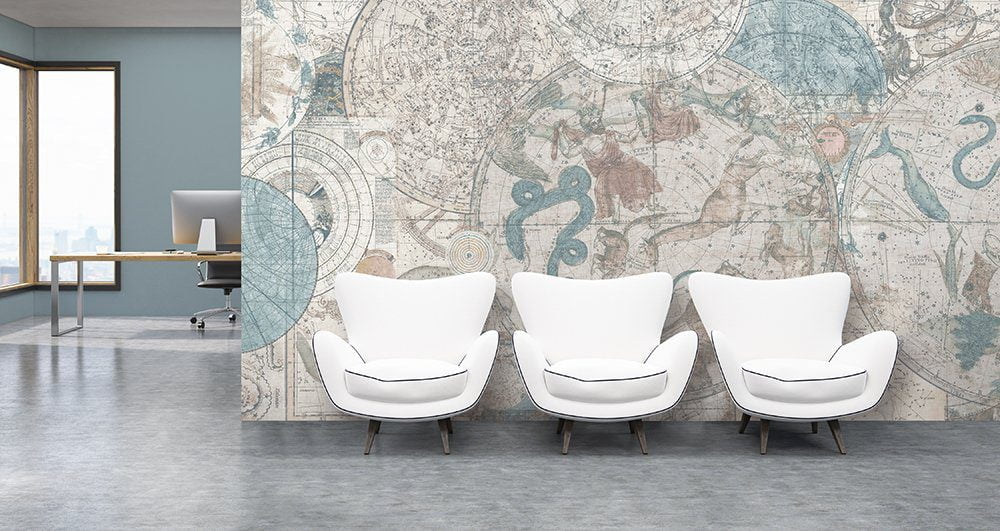 Bring some positive energy to your interior with Level's Star Map design. Available in 4 standard colorways or we can customize one for you! Contact your representative for a consultation. Find Your Rep | Request A Quote
Shooting Star by Command Wallcoverings. This embossing is inspired by falling stars and paired with metallic finishing to add a touch of glamour to your design. From light neutrals to dark grays, find your perfect match with available colorways. Order Samples for Shooting Star 
Meteor Shower, by Vycon Wallcoverings, mimics the twinkle of stars radiating from the night sky. Proprietary ink techniques create the perfect collusion of mineral texture and growing particles. This celestial event is attamdeded by 6 colors that are shared with its coordinate, Meteor.