A Bright Future Pediatrics offer the highest standard of care for children, adolescents, and young adults in the Plano, Texas area. Amy Jansing with Schwabauer Design gave us some insight on the design process of A Bright Future Pediatrics project.
"Our design process for a A Bright Future Pediatrics really started with the schematic design of the space plan. Being moms ourselves, we also knew we had an opportunity to create a whimsical feel in hopes to ease the children's minds right when they get to the door of A Bright Future Pediatrics. Circular built-in banquette seating allowed for a maximum amount of seating.

From there, we focused heavily on the logo and branding colors already in place for A Bright Future Pediatrics.  This led us to the great graphic designs with level digital wallcovering applications. This selection guided our choices for the fabrics on the banquette and ceiling accents.  We are so pleased with the end result."
Featuring Wildwood – Autumn (L81303) by Level Digital Wallcoverings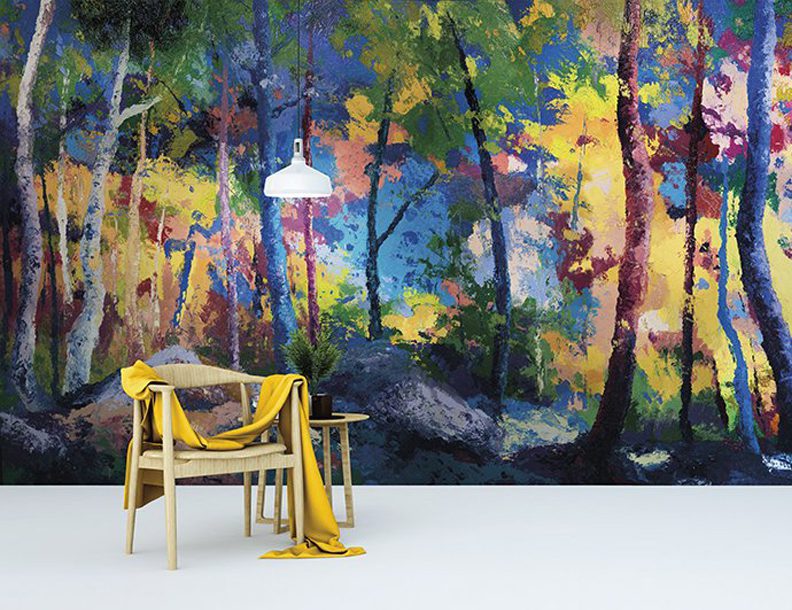 Artist: Eleen Dorsey Studio
Eleen Dorsey commented on her art being used as a mural in featured interior design, "I just love how my mural looks in this space! Thanks for letting me be a part of this project!"
Amazingly, all parties were super pleased with the mural  Wildwood L81303 Autumn.  "Huge thanks to Amy Jansing and all Schwabauer Design for the Level graphic specs! Looks fantastic!" said Amy Norris.